"ASK AB-SOUL" CONTEST
Have you ever wanted to interview Black Hippy's AB-SOUL on a Ferris Wheel at the biggest hip-hop festival in the world?
Now you can!
Enter the ASK AB-SOUL contest by submitting an Instagram video asking 5 of the most unique, creative, fun and interesting questions you can think of!
Be sure to tag @GuerillaUnion, #ASKABSOUL and #ROCKTHEBELLS
The fan with the overall BEST 5 QUESTIONS will get the opportunity to ask Ab-Soul directly on the Ferris Wheel this weekend!.
Good luck!
---
LAST CHANCE TO WIN TICKETS to RTB LOS ANGELES:
"ROCK THE BELLS CLEARING HOUSE"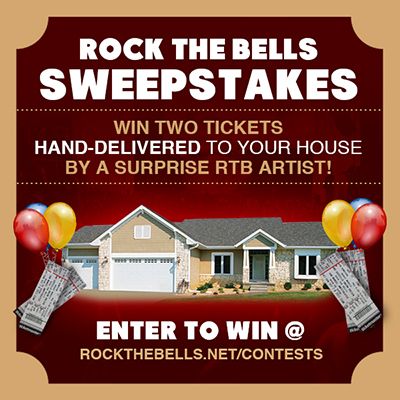 Want to attend RTB, but can't???
Here's your last chance to win tickets to the first festival stop in LA this weekend!
Just upload a video to YouTube…
Tell us WHY you want to go, WHO you want to see, and why you CAN'T go to RTB…
Post the video on our Facebook page, and we'll choose the best submission.
The winner will not only get TWO TICKETS to the festival in LA, but these tickets will be HAND-DELIVERED to their home by a SURPRISE RTB ARTIST!
*winner will be chosen this week
---
WIN THE ULTIMATE ROCK THE BELLS EXPERIENCE
Rock The Bells 2013 Festival Series sponsor Kingston Technology is giving you a chance to win the ultimate RTB experience by upgrading your General Admission ticket to VIP and hookin' it up with a super dope Kingston prize pack! All you have to do is:
Download Kingston's Mobile Lite App to your Android or iPhone NOW via the links below
Participate in Kingston's Scavenger Hunt on site at Rock The Bells 2013
Successfully complete all tasks and you'll be in the running to win
iPhone: https://itunes.apple.com/us/app/kingston-mobilelite/id628221903?mt=8
Android: https://play.google.com/store/apps/details?id=com.kingston.mobilelite&hl=en
---
ATTEND THE SOUND CHECK FOR ODB & EAZY-E
ATTEND THE SOUND CHECK FOR
OL' DIRTY BASTARD & EAZY-E'S VIRTUAL PERFORMANCE!
Hip-hop history is going to be made at Rock the Bells this year, and we want you to be a part of this truly ONCE-IN-A-LIFETIME opportunity.
We're giving four* fans and their guests a chance to attend the private
SOUND CHECK of OL' DIRTY BASTARD & EAZY-E'S VIRTUAL PERFORMANCE!
Plus, we'll take care of your two-day tickets and hotel accommodations for the entire weekend.
All you have to do is create a 15 second INSTAVID (video on Instagram) of you performing your favorite lyrics from both Ol' Dirty Bastard and Eazy-E. Be sure to tag @guerillaunion and #RTBsoundcheck, plus the city you're reppin (LA / SF / DC / NY). We'll choose the best submission per market.
Get creative, have fun, and good luck!
*one winner per market
---
LIKE & SHARE CONTEST. – CLOSED
---
WIN TICKETS!
Help us reach 100k LIKES on our Facebook page. SHARE the image above, LIKE our page and get all of your friends to LIKE it too!
Once we reach 100k, we will give away 100 TICKETS TO 100 OF OUR FRIENDS!
Be sure to COPY and PASTE the caption below and TAG @ROCKTHEBELLSFESTIVAL:
"I want a FREE ticket to [insert LA, SF, DC or NY] ya bish! SHARE this post and LIKE @RocktheBellsFestival #WINSday"
GOOD LUCK!
---
CONTEST WINNER IS Savanah Wanis (@savanaaah3)
WIN TICKETS
SHARE THE RTB TRAILER FOR A CHANCE TO WIN A PAIR OF TICKETS TO THE CITY OF YOUR CHOICE. – CLOSED
Secure your spot at the festival, and SHARE the Official Rock the Bells 2013 Trailer to win a pair of tickets to a city of your choice. Just copy and paste the below line into your Facebook and your Twitter (or if you're fancy, share it on your Instagram):
It's #WINSday, and I wanna win 2 tickets to #RocktheBells!
The more you post, the more chances you have to win. One lucky winner will be announced Sunday on the BLOG so check back to see if it's you. Good luck!
---
CONTEST WINNER IS Virginia G (@virginiagrimes)!
Dope or Nope: Wale's "The Gifted" – CLOSED
Did you cop that new Wale album "The Gifted" yet? Let us know what you think of it for a chance to win some free gear!
Rate the album here, and you'll be in the running to score a 2013 FESTIVAL T-SHIRT & BACKPACK.
Visit the BLOG this Sunday to find out if you won. And check back every #WINSDAY for more chances to win!
---
CONTEST WINNER IS @VaggaGee909!
WIN A ROCK THE BELLS SWAG BAG + TICKETS! – CLOSED
It's as simple as 1, 2, 3…
1. Answer the question on our POLL
2. Share the Poll on your Facebook and Twitter with the hashtag #WINSDAY
3. Check back on our BLOG this Sunday to see if you won
One lucky winner will be laced with a plethora of Rock the Bells goodies – a backpack, t-shirts, posters, collectible trading cards, stickers and more – along with 2 tickets to the festival.
Be sure to stay posted every #Winsday for more chances to win!
---
WIN TICKETS to the NYC LAUNCH PARTY on 6/24 – CLOSED
We're bringing the Party to New York City!
Hear which artists have been added to this year's line-up, and be one of the first to catch live sets from them at the Highline Ballroom on Monday, June 24!
Reserve your spot in the building now! All you have to do is:
1. SNAP A PHOTO of the Highline Ballroom in NYC—the entrance doors, the bar, the stage, the street it's located on…get creative!
2. Post it on your INSTAGRAM
3. Follow and Tag @GuerillaUnion
4. Write in the CAPTION: I want tickets to the #RTBLaunchParty in NYC on 6/24!
Ten lucky winners and their guests will get free tickets to the Launch Party. Stay posted to our Instagram to find out if you won!
Don't feel like testing your luck? You can still purchase tickets here!